Expand your
Professional Toolset

with EveryIncome
Boost customer engagement and aquisition by offering EveryIncome financial wellness benefits to your clients.

  What is EveryIncome for Professionals?

2>
EveryIncome is an online learning platform that helps professionals provide personalized financial solutions and wellness tools, career enhancement strategies, employment opportunities, and life events solutions to their clients and prospects.
Give your clients the tools and education they need
Sign up for our pro White-Labeling and offer your own custom-branded EveryIncome platform to your clients. Add custom content to the site and offer a unique experience just for your clients.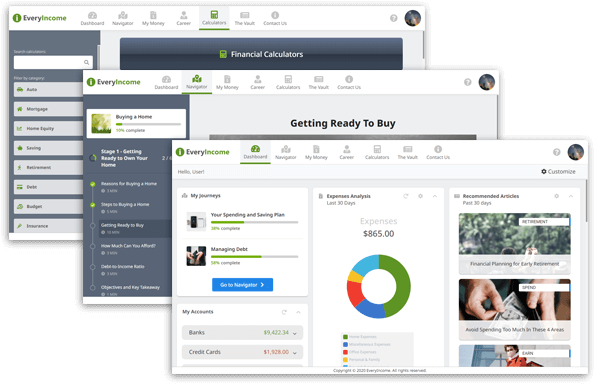 What Our Customers Are Saying
Cost-effective online engagement
Client acquisition
Client retention
Business and brand reputation
Professional guidance
Personalized financial education
Personalized life events solutions
Personalized career tools
Customized to suit your brand and your needs
Match your own branding and colors across the platform for a seamless experience for your clients.
Complete white label solution
Customizable feature set
Secure data management
Signup is fast and easy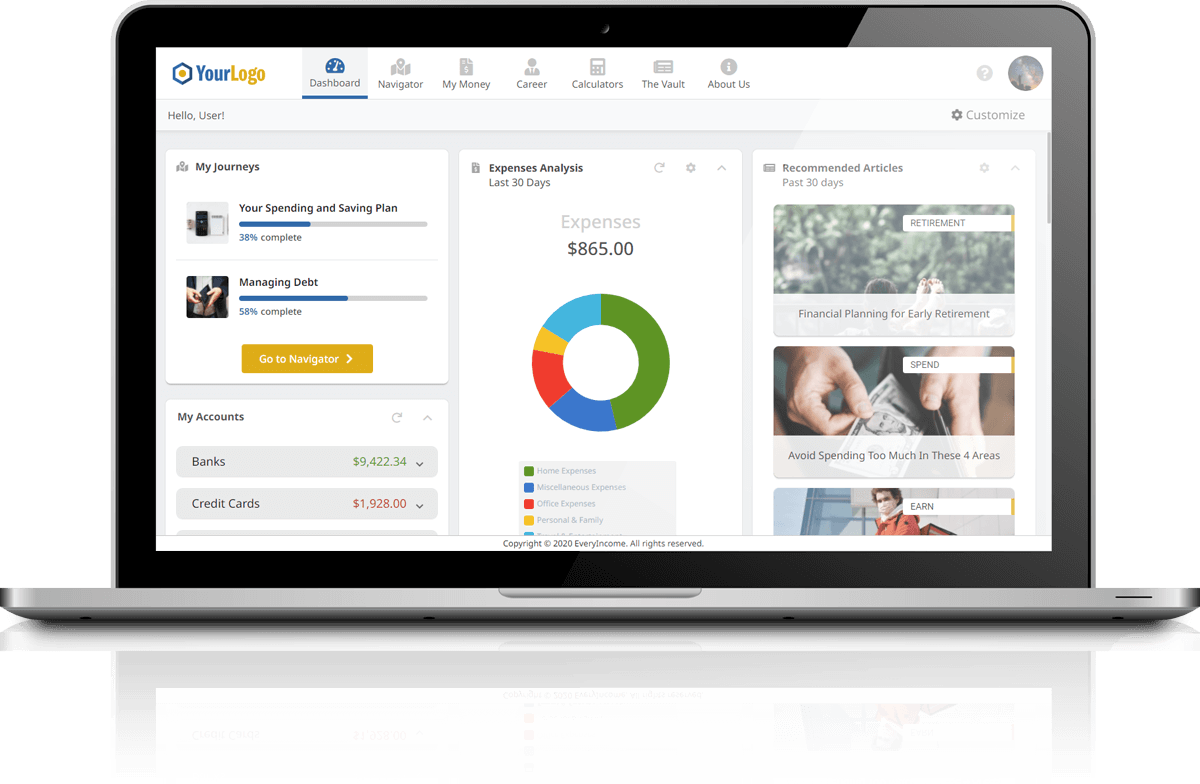 Exclusive Pro White-Label Features
Custom-Branded Platform
Use your colors, your logo, and your brand across the platform for a seamless user experience.
Feature Access Control
Enable or disable platform features to give your clients the perfect experience for your business.
Real-time Reporting
Get real-time reporting of platform usage and identify trends across user engagement.
12-Mo Engagement Review
Review the service every 12 months — renewal is evaluated based on value delivered.
One platform, everything clients need to take control of their finances.
Alongside career and finance management tools, users get personalized, guided financial education and recommendations covering all kinds of life events and personal finance needs, tailored specifically for them.
EveryIncome Navigator
Explore personal finance topics with interactive, guided Navigator Journeys — personalized just for you — and learn how to make the best of any financial situation, one step at a time.
My Money
Easily see all your financial accounts and information in one place with My Money — investment accounts, credit cards, bank accounts, and more!
Financial Calculators
Calculate payments, plan for savings, or work out how to take better control of any financial situation with our extensive list of financial calculators.
Career Tools
See statistics on occupation salaries, job demand, skills needed, related jobs, how to boost income, get skill comparisons across occupations, and more!
The Vault
Learn how to take control of your financial future with our vast library of articles and content in the Vault.
Schedule a demo for more details
Fill out the form below to schedule a live demo to see the platform in action or to get more information about our features and professional offerings.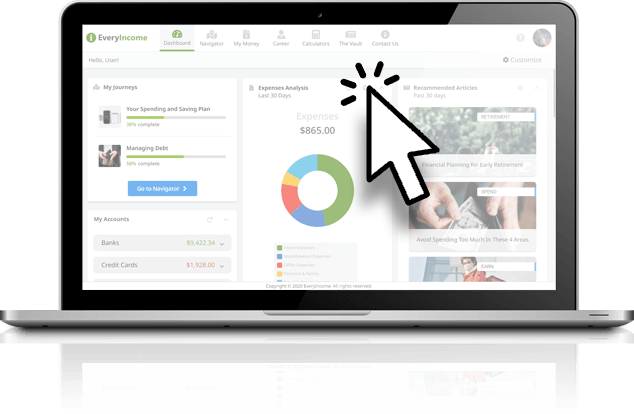 Are you ready to bring EveryIncome to your clients?
Get started today and give your customers the good news!
Pro Flat Rate Licensing
| # of Seats | Monthly Price |
| --- | --- |
| | $250 /mo |
| | $500 /mo |
Low cost and easy projection
Custom branded Ei platform
Platform hosting and support
Full access to all features
Feature customization
Community moderation
Sign up with Flat Rate
* Unlimited seats refers to directly sponsored clients or prospects. If offering your platform to an organization, sponsorship is limited to organizations with 500 members or less. For large businesses or organizations, contact us for custom pricing. Get in touch with us or schedule a demo for more information.
Feel free to contact us to schedule a demo, discuss pricing options, or if you have any questions about the services.