Empower Your Employees,
Better Your Business.
78% of employees with high financial stress say it distracts them at work.1 Give your employees the tools and encouragement they need to take control of their financial health.
Employees want financial management benefits
There's a gap between the financial health benefits employees want and what employers typically offer. Nearly three quarters (74%) of employees say that financial wellness benefits are important for an employer to offer, while 60% say they'd be more likely to stay at a job if their employer offered financial wellness benefits that help them better manage their finances.1
60% of employees say they'd be more likely to stay at a job if their employer offered financial wellness benefits.1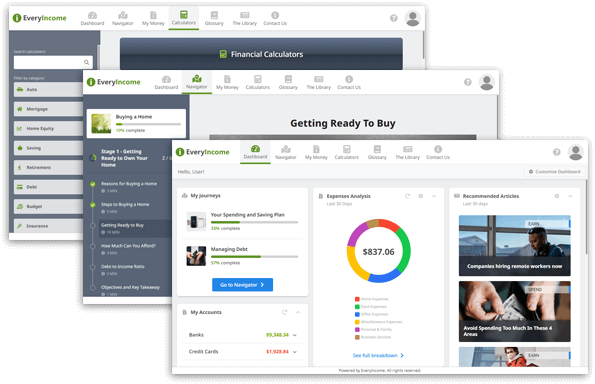 Stand out from the crowd with great employee benefits from EveryIncome
With interactive, guided educational courses, financial calculators, articles, and all-in-one financial account aggregation, give your employees the tools they need to take control of their financial health with EveryIncome's personal finance management suite.
Investing in employee financial health is good for business
Increase productivity
Improve job satisfaction
Maintain higher retention
Build brand reputation
Lower stress
Reduce distraction
Decrease absences
To get started, just sign up through our fast and easy signup process, configure your customization options, and then invite employees to create their company-sponsored accounts and begin taking control of their financial health through our system of tools,  recommendations, and guided learning — it's that easy.
Customized to suit your brand and your needs
Match your company's branding and colors across the platform for a seamless experience.
Complete private-label solution
Customizable feature set
Secure data management
Signup is fast and easy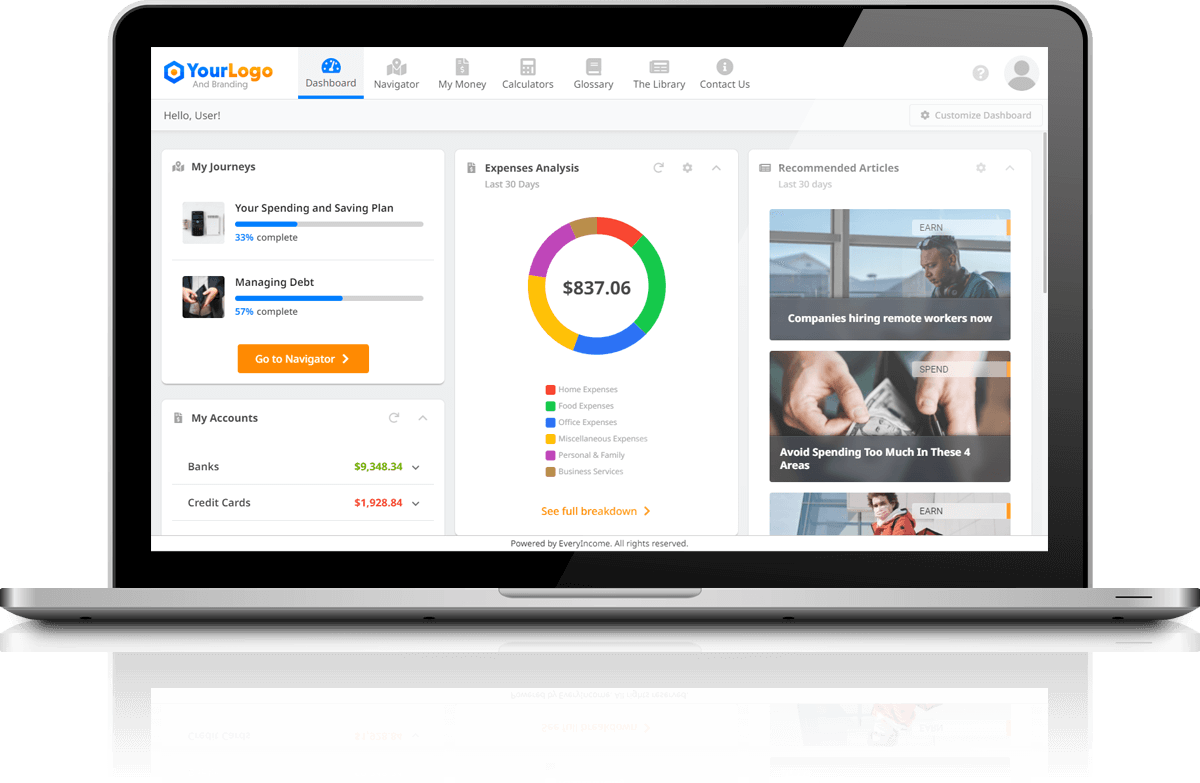 Exclusive Features for Businesses
Custom-Branded Platform
Use your colors, your logo, and your brand across the platform for a seamless user experience.
Feature Access Control
Enable or disable platform features to give your employees the perfect experience for your business.
Real-time Reporting
Get real-time reporting of platform usage and identify trends across user engagement.
12-Mo Engagement Review
Review the service every 12 months — renewal is evaluated based on value delivered.
One platform, everything employees need to take control of their finances
Alongside finance management tools, get personalized, guided financial education and recommendations covering all kinds of life events and personal finance needs, tailored specifically for each user.
EveryIncome Navigator
Explore personal finance topics with interactive, guided Navigator Journeys — personalized just for you — and learn how to make the best of any financial situation, one step at a time.
My Money
Easily see all your financial accounts and information in one place with My Money — investment accounts, credit cards, bank accounts, and more!
Financial Calculators
Calculate payments, plan for savings, or work out how to take better control of any financial situation with our extensive list of financial calculators.
The Library
Learn how to take control of your financial future with our vast collection of articles and content in the Library.
Schedule a demo for more details
Fill out the form below to schedule a live demo to see the platform in action or to get more information about our features and business offerings.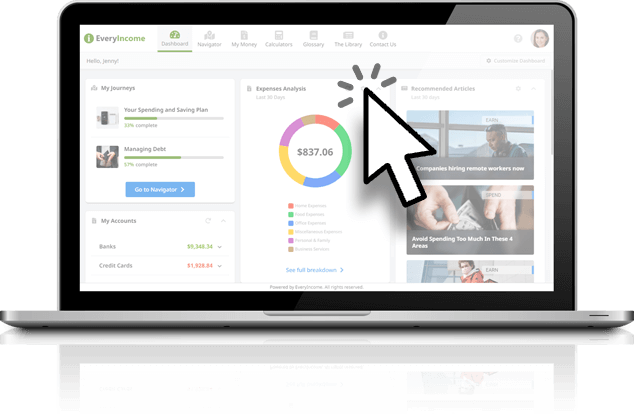 Are you ready to bring EveryIncome to your business?
Choose how many member seats you want and get started today.
Flat Rate Licensing
| # of Seats | Monthly Price |
| --- | --- |
| 125 | $500 /mo |
| 250 | $1,000 /mo |
| 500 | $1,900 /mo |
| 1,000 | $3,500 /mo |
| 1,500 | $5,000 /mo |
| 2,000 | $6,250 /mo |
| 3,000 | $8,750 /mo |
| 4,000 | $11,000 /mo |
| 5,000 | $12,500 /mo |
Low cost and easy projection
Custom branded Ei platform
Platform hosting and support
Full access to all features
Feature customization
Sign up with Flat Rate
"Seats" refers to the amount of members you may have signed up to your company account at any given time. For large businesses or organizations, contact us for custom pricing. Get in touch with us or schedule a demo for more information.
Feel free to contact us to schedule a demo, discuss pricing options, or if you have any questions about the services.