Financial Empowerment
For
Everyone
Personalized financial education and management that's great for you, perfect for your clients or employees — EveryIncome is for everyone.
Offer your own custom-branded platform of financial education and management tools to your clients, employees, prospects — whoever you want.
EveryIncome is for Everyone
Affordable
Starting at only $19/mo, providing your own financial management suite for your employees, clients, or prospects has never been more affordable.
Accessible
Getting set up is fast and easy — anyone can get started with EveryIncome. Access the platform any time from your desktop or mobile device.
Automated
Setting up your platform only takes a few minutes, and after inviting members, there is no ongoing maintenance or work required.
Your members get a full range of financial education and management benefits — everything from interactive educational courses to budgeting tools and calculators — all custom branded for your organization.
EveryIncome Navigator
Explore personal finance topics with interactive, guided Navigator Journeys and learn how to make the best of any financial situation, one step at a time.
My Money
Easily see all your financial accounts in one place — investments, credit cards, bank accounts, and more! Set up budgets, goals, track income/expense trends, and more!
Financial Calculators
Calculate payments, plan for savings, or work out how to take better control of any financial situation with our extensive list of financial calculators.
The Library
Learn how to take control of your financial future with our vast collection of articles and content in the Library, with recommendations provided based on your interests.
Get started for free, cancel anytime. Save 34% with a yearly subscription! Feel free to contact us about a custom plan for your business or for larger volume discounts.
Frequently Asked Questions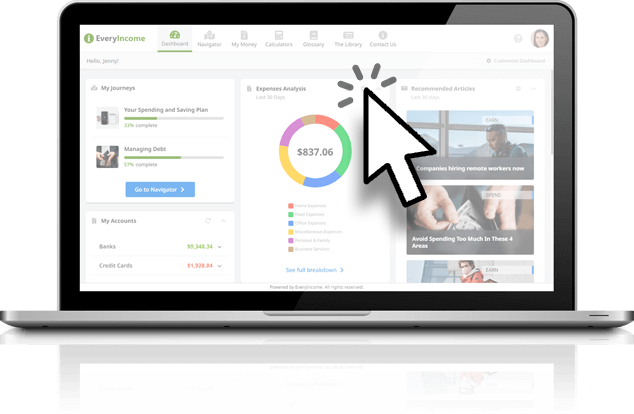 Contact us to schedule a quick demo to see how EveryIncome can work for you.
Want the latest EveryIncome insights?
Enter your email address for more information.
Custom branded Ei Platform
Get your own private-labeled EveryIncome platform, where you can invite people (clients, employees, prospects, friends, family, whoever you want) to sign up as members on your customized EveryIncome platform.
Member seats
"Member seats" refers to the number of members/users you can have signed up to your platform. You can add anyone as a member — clients, employees, prospects, friends, family, anyone you want!
Price per seat
This is the calculated price per member seat per billing period — either monthly or yearly — for the selected plan (the price of the plan divided by the number of member seats included).
14-day free trial
When you create your account and sign up, your first 14 days are free. You can cancel any time. Your first payment isn't due until after the end of your free trial. 
Full access to all features
Get access to all the features offered on EveryIncome instantly when you create your account and sign up for a plan.
As well as having all the regular EveryIncome tools and features, admins of your platform get some basic account and member statistics, customized promotional materials, and other admin-related information.
Features included for you (as an admin) and your members (whoever you invite to your platform):
Personalized Dashboard
EveryIncome Navigator Journeys
My Money 
Financial Calculators
Financial Glossary
The Library
Feature customization
You can customize which tools or features you want to have available on your private-labeled platform — tailor the experience to fit you and your members.
Platform hosting and support
We take care of all the web hosting so that you don't have to. Hassle-free hosting, website maintenance, and ongoing support all come with the platform, as they should.
Marketing support
This includes custom marketing media, example messaging, and HTML templates that you can use to craft your own marketing campaigns, use across your website, or within other social communications. This also includes ongoing support and guidance from EveryIncome if you have questions.
Custom Content
Create your own content to show on the platform, exclusively for your members — this includes articles, blog posts, videos, and/or podcasts.